News
IMPORTANT:
Summer Camp REGISTRATION
12 August 2015
REMINDER:
The last date for registration to our 2nd Summer Camp is on Thursday 13th at the New Pavilion from 7:00pm to 7:30pm.
SPREAD THE WORD PLEASE!
...
more
Match Report:
Minor Hurling Vs St. McNesis
07 August 2015
THE CREGGAN MINOR HURLING LADS GOT OFF TO A FINE START, NOTCHING UP 7 POINTS WITHOUT REPLY, BUT A FEW MOMENTS OF INDECISION IN MIDFIELD HAD CREGGAN GIVING AWAY TWO SOFT GOALS ALLOWING T
...
more
News Item:
Message of thanks from all at Balinderry
05 August 2015
CLG Seamroga Baile an Doire have circulated this expression of sincere thanks on behalf of their club to all of the Association's units.
They are deeply indebted to the kindnes
...
more
Creggan Camogie Club:
INTERMEDIATE CAMOGIE CHAMPIONSHIP
05 August 2015
SAT 15TH AUGUST

CREGGAN V BALLYCASTLE

TIME AND VENUE TBC


WILL UPDATE WHEN MORE INFO HAS BEEN RELEASED


...
more
IMPORTANT:
Upcoming Summer Camp INFORMATION
04 August 2015
Here as the latest information required to join our next upcoming Summer Camp @ Creggan

Date: Monday 17th August to Friday 21st August
Cost: £25 per child
Registration: Friday 7
...
more
Upcoming Event:
Ronan Boyle Annual Over-35's sevens tournament 2015
04 August 2015
Timetable of events for upcoming Ronan Boyle Inaugural 35+ Sevens Competition

11:30am Teams Meet

Group A (Meet and Change at Rossa)
Rossa
St Galls

...
more
Upcoming Event:
Ronan Boyle Annual Over-35's sevens tournament 2015
20 July 2015
If any of our Over-35 members would like to bring a team together and participate in the below event please contact Terry Robb or Tony Close. A prefect opportunity to roll back the years and
...
more
Match Report:
Minor Hurling
20 July 2015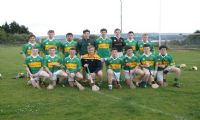 Our minor hurlers had a comfortable win tonight over South Antrim Club Gort na Mona.
Ahead of their championship clash next Sunday in Creggan at 2pm, it was a rather relaxed affa
...
more
Reminder:
U10 Football Notice
14 July 2015
No training this week due to the holidays. Training will resume 23rd July.
Upcoming date to note: Newbridge tournament, Saturday 1st August.
...
more
Registration for Cul Camps and Saffron Og Camps will take place on Thursday 2nd July between 7:00pm & 8:00pm.
Also Fundamentals Coaching is still ong
...
more