News
News Item:
Antrim Minor Hurling team
25 June 2009
Congratulations to Conor McCann who gets the number 14 shirt in the Antrim Minor Hurling team to play Derry in the Ulster Final on Sunday 28th June at Casement Park.
Well done Conor and thoroug ...
more
News Item:
All Ireland U14 Hurling Feile
23 June 2009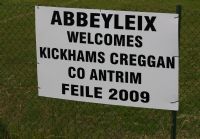 Our U14 hurlers traveled to Offaly/Laois last weekend to take part in the All-Ireland Feile. Reports coming back suggested that they acquitted themselves well on the field and represented them ...
more
News Item:
U21 Football Championship Trophy
22 June 2009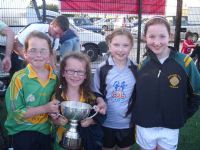 County stars Dermot McCann and Peter Graham brought the recently won Under 21 Football Championship Cup to Under 8 and Under 10 training.
More photos in the Gallery Section
...
more
News Item:
Videobites - Antrim Vs Donegal
22 June 2009
Here are a number of links to comments made after the recent Antrim Vs Donegal SFC & MFC matches in Ballybofey.
more
News Item:
Tickets for Clones - ANTRIM Vs CAVAN
17 June 2009
Anybody who wants to get tickets for the stand for the Antrim Vs Cavan Ulster Semi Final needs to contact Gemma McCann on 07821586150
before this Saturday
. These are for Stand ONLY tickets. All ...
more
News Item:
Who's scrounging for challenge matches?
11 June 2009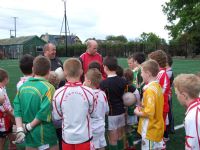 A certain well known GAA legend dropped in to Creggan on Wednesday night and invited one of our underage teams to come to Errigal Ciaran to have a coaching session and play a match against the Tyron ...
more
News Item:
Speedy Recovery
03 June 2009
The football panel would like to wish our recently injured players a quick rehabilitation and a speedy recovery. Adrian Dougan, Tony Close and Leigh Martin have all been injured in our past tw ...
more
Match Report:
ACFL Div. 1 - Kickhams Vs St. Johns
03 June 2009
ACFL Div. 1
02 May 2009
St. Johns 2-10
Kickhams Creggan 1-07
Played in excellent conditions St Johns enjoyed their first league win of the season. They started ...
more
Match Report:
ACFL Div. 1 - Kickhams Vs St. Pauls
02 June 2009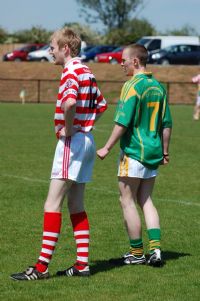 ACFL Div. 1
31 May 2009
Kickhams Creggan 3-08
St. Pauls 0-11
A good victory for the seniors today over a St Pauls team who started the gam ...
more
News Item:
PJ Ryan visits Creggan
02 June 2009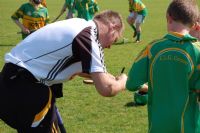 Kilkenny hurling goalkeeping legend PJ Ryan paid a visit to Creggan on Saturday. PJ was there to open the Cul Camp for 2009 and also to give our young All Ireland U14 Feile hurlers a coaching sess ...
more