News
All the Minor Footballers who ordered hats from Frances McCollum MUST collect them on Wednesday night between 8:30 & 9:30. Bring your fivers too...
If you can't make it, give your name and ...
more
News Item:
Juvenile Presentation Night
09 December 2009
On Monday night our Juvenile Presentations were held in the Pavilion and as normal there was a huge turn out. This was especially so this year as our guests were none other than All-Ireland Footba ...
more
The Club held its Annual General Meeting in the Pavilion on Wednesday 2nd November. The following members were voted on to the Committee for 2010:
Cathaoirleach / Chairman: Tony McCollum ...
more
Upcoming Event:
Juvenile Presentation Night
03 December 2009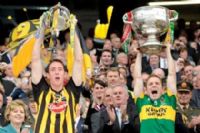 This year's Juvenile Presentation Night will be held on Monday 7th Dec in the Pavilion. We are extremely privileged that appearing will be the two captains of the All Ireland Football & Hurl ...
more
Match Report:
Ulster Minor Championship QF - Kickhams Vs Scotstown
02 December 2009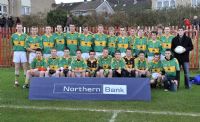 Ulster Minor Championship Quarter-Final
29 November 2009
AET
Kickhams Creggan 0-13
Scotstown 2-11
Creggan travelled to Shaws Road in Belfast on Sund ...
more
Upcoming Event:
Kickhams Creggan AGM
30 November 2009
This Wednesday, December 2nd will see the annual AGM take place in the Pavilion at 7:30.
Nominations forms have already been posted out to all members so please come along as this is your oppor ...
more
Upcoming Event:
FIFA 2010 xBox/PS3 Tournament
29 November 2009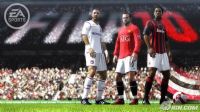 ATTENTION.....Game Geeks!!!
Friday 4th December @ 9pm
FIFA 2010 tournament for minors upwards
£5 per head.
If interested contact Peter on 07704770920
Sa
...
more
News Item:
County Antrim Club Newsletter
28 November 2009
Click on the accompanying document to read
...
more
News Item:
Antrim & Ulster Awards For Kickhams Creggan
19 November 2009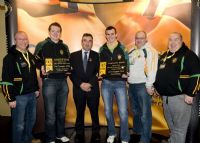 On Saturday, Ulster GAA held its third annual 'Club and Volunteer Conference', in partnership with The Irish News. Over 450 people packed into Armagh City Hotel for Ulster GAA's Flagship n ...
more
Hurry, Hurry....with winter now in full swing, here is your opportunity to keep your napper warm whilst also looking fierce stylish!
A new range of ski hats are now available for sale at the kn ...
more