News
News Item:
Gear For Christmas
20 November 2013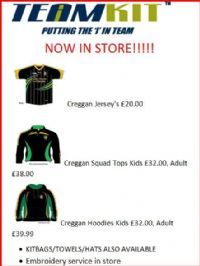 New Gear NOW STOCKING IN BALLYMENA STORE
Teamkit
48-50 Broughshane Street
Ballymena
028 25640500

...
more
Congratulations:
Juvenile Presentation 2013
18 November 2013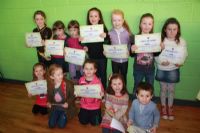 On Sunday 10th November we had our annual Juvenile Presentation in Creggan Hall. What a successful evening it was with a massive turnout of parents and juveniles. We would like to thank all our special ...
more
Upcoming Event:
Video Presentation
12 November 2013
ATTENTION:

The Club Video that was due to be screened at the Juvenile Presentation evening last Sunday (due to circumstances beyond our control it wasn't...ie: the sun!), will now be givin
...
more
IMPORTANT:
Pitched now CLOSED for business
10 November 2013
NOTE: The main grass playing pitch is having maintenance work done this week and is now closed for the rest of the year.
...
more
Upcoming Event:
Juvenile Presentation
06 November 2013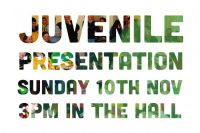 Our annual Juvenile Presentations will take place this coming
Sunday 10th November @ 3pm
in the Hall.
This is an important event for the Club and it's youth so all parents an
...
more
Event:
Children's Beginners Acoustic Guitar Lessons
04 November 2013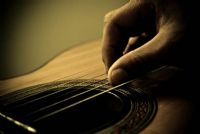 Commencing
Sunday 17th of November
In Creggan GAC Clubrooms
Learning both Irish and Modern Chart songs.
...
more
Upcoming Event:
Charity Night
01 November 2013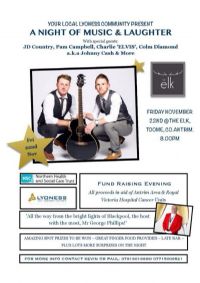 It would be great for as many people who can spare the time to support this event as this great ward helped a member of our Club through some very difficult times recently.
...
more
Creggan Camogie Club:
Halloween Disco
29 October 2013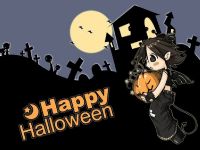 Halloween Fancy dress disco
(Primary School children)
Tuesday 29th October @ 6.30Creggan Hall
Admission £3
...
more
Upcoming Event:
Deceased Club Members Mass
24 October 2013
The Annual mass for deceased members will take place on Tues 19th November @ 7:30pm in the Pavilion.
...
more
Creggan Camogie Club:
U10 Ulster Indoor tournament
24 October 2013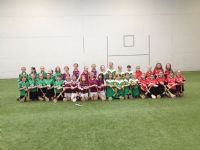 On Saturday 19th October, Creggan U-10 camogs took part in an Ulster Indoor tournament in the fantastic facilities in Dunloy. They met Ahoghill, Na Magha Derry, and Bredagh in their se
...
more