News
News Item:
Under 12 Training
24 February 2009
A notice to all who are eligible for U12 football this year. Training starts 6.30pm SHARP this Friday night (27th Feb).
...
more
Fixtures:
Adult Fixtures for 2009
23 February 2009
The below attachment has the adult football and hurling fixtures for the upcoming 2009 season.
...
more
Upcoming Event:
CDP - Games to Develop Football
10 February 2009
CDP - Games to Develop Football
February 12th
7:30pm - 9:00pm
Venue:
Kickhams Creggan GAC, Co Antrim
Info:
This outdoor observation session will look at g ...
more
Reminder:
Juvenile Registration Night
10 February 2009
The 2009 season Juvenile Registration night will take place at the pavilion on
Friday 20th Feb 7:30-8:30
.
All parents are strongly encouraged to bring their children along at this t ...
more
News Item:
Dinner Dance Photos For Sale
09 February 2009
Anyone who wants to purchase any of the photos in the gallery below please email lmiemr@googlemail.com.
Also any of the other pictures from the dinner dance of the various individual awa ...
more
The gym in the pavilion is
NOW OPEN...
Those that wish to use the facility can sign up all this week between 7:00pm - 10:00pm and go right ahead and use the va ...
more
Reminder:
Ladies Football Training Times
05 February 2009
Ladies Football Training Times
U14 & U16 - Mondays 6:30 - 7:30
Senior - Mondays 7:30 - 8:30
Please bring both boots and trainers ...
more
News Item:
Creggan Gym - GET YOURSELF INDUCTED
05 February 2009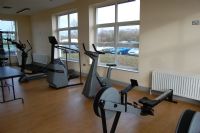 Due to Roisin being sick, inductions will
not
now take place on Thursday.
Next inductions will be
Saturday 7th Feb @ 10:30am, 11:15am & 12:00 noon and Monday @ 8:00pm
...
more
The annual dinner dance was held in the Elk on Friday 30th January. Once again it was a well attended night and the club extends their thanks and gratitude for your continued support.
Everyone ...
more
Event:
U14 3G Hurling League @ Creggan
29 January 2009
This event took place on Sat 17th January.
Thanks to Joe Rice for the photos.
...
more