News
News Item:
U12 Antrim Skills Winners
10 September 2009
Taken from the County Website:
Congratulations to the following players who have qualified for the U12 Ulster Skills Football Competition that will be held in the Mid Ulster Sports Arena in C ...
more
Upcoming Event:
All-Ireland Ladies Junior Football Final - Antrim Vs Limerick
08 September 2009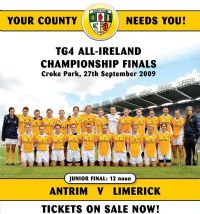 Sunday 27th September 2009 sees Antrim Ladies Footballers contest their first All Ireland Final. They will face Limerick in Croke Park at 12 noon as part of a triple header which sees Fermanagh take ...
more
News Item:
Stewards Required
07 September 2009

20 stewards are needed for 2 championship matches which are being held at Creggan on Saturday 12/9/09 from 2pm onwards.
We need stewards for parking, scoreboard, club r
...
more
Reminder:
ACMFC - Kickhams Vs St. Johns
03 September 2009
Gaels of Creggan,
Club Séarlas Ciceam CLG does not need to remind you of the importance of Friday night's match against St. Johns in the Minor Football Championship. Everyone knows the story be ...
more
Event:
U12 Skills Competition
03 September 2009
A Cairde,
The county U12 Hurling and Football Skills competition will be held this weekend:
Hurling Competition is this Friday, September 4th in
Creggan Kickhams GAA club at 6.15pm.
Foo ...
more
Match Report:
Ladies Senior Football Championship
02 September 2009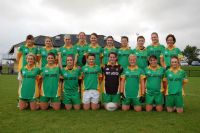 Ladies Senior Football Championship
26th August 2009
Kickhams Creggan Vs St. Galls
Unfortunately last Wednesday night was just not their night. Hard luck girls and here's ...
more
Match Report:
NAHL U-16 Div. 2 - Kickhams vs Tir Na nOg
02 September 2009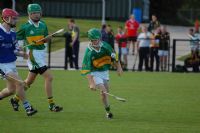 NAHL U-16 Div. 2
17 August 2009
Kickhams Creggan 5-14
Tir Na nOg 5-06
This was a 13-a-side game played at Creggan on a bright summer's evenng and both teams m ...
more
Event:
Coalisland U21 Seven-a-Side Competition
01 September 2009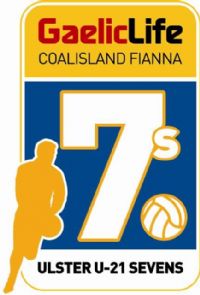 Creggan U21's travelled to Coalisland to participate in their inaugural U21 seven-a-side competition on Saturday.
Due to a number of late call offs by a few of the originally pa ...
more
Fixtures:
Jnr Camogie Championship FINAL
28 August 2009
Creggan Junior Camogie team are in the Jnr C'ship Final V Gort na Mona tonight with venue set as
Gort na Mona
@ 6:45. ALL SUPPORT would be great!
...
more
A wedding band/ring has been found on the club premises. If anyone has lost it or knows of anybody that has recently mislaid it please contact Tony McCollum. There's some poor sod getting grief for ...
more